What are the Google Shopping options, and how can JH help with integration to your MOCE platform?
What is it Google Shopping?

Google Shopping is a variety of services and destinations (powered by the Google Merchant Center platform) that allows customers to search for, compare, and buy products from a variety of shops. It is the second-most popular method for users to begin their purchase searches after Amazon.

Google Shopping ads are like Google's search engine and a great way for customers to find and evaluate your products.
Google Shopping has 1.2 billion monthly searches
Google Shopping ads drive 76.4% of all ecommerce ad spend
85% of all product searches start with either Google or Amazon
Google Shopping History


Began as Froogle in 2002
2008: changed to Google Product Search
2012: changed to Google Shopping, introduced Paid Listings - the only way you could get products listed
Today: a mix of Free & Paid Listings, to compete with Amazon.







Google Shopping Ads use images instead of text-based ads and are more beneficial to retailers since consumers searching through image-based results show higher purchase intent.
For your listings, Google will assign whatever keywords are relevant to your product based on the product data flow. This is automatically updated whenever your listings are updated.


---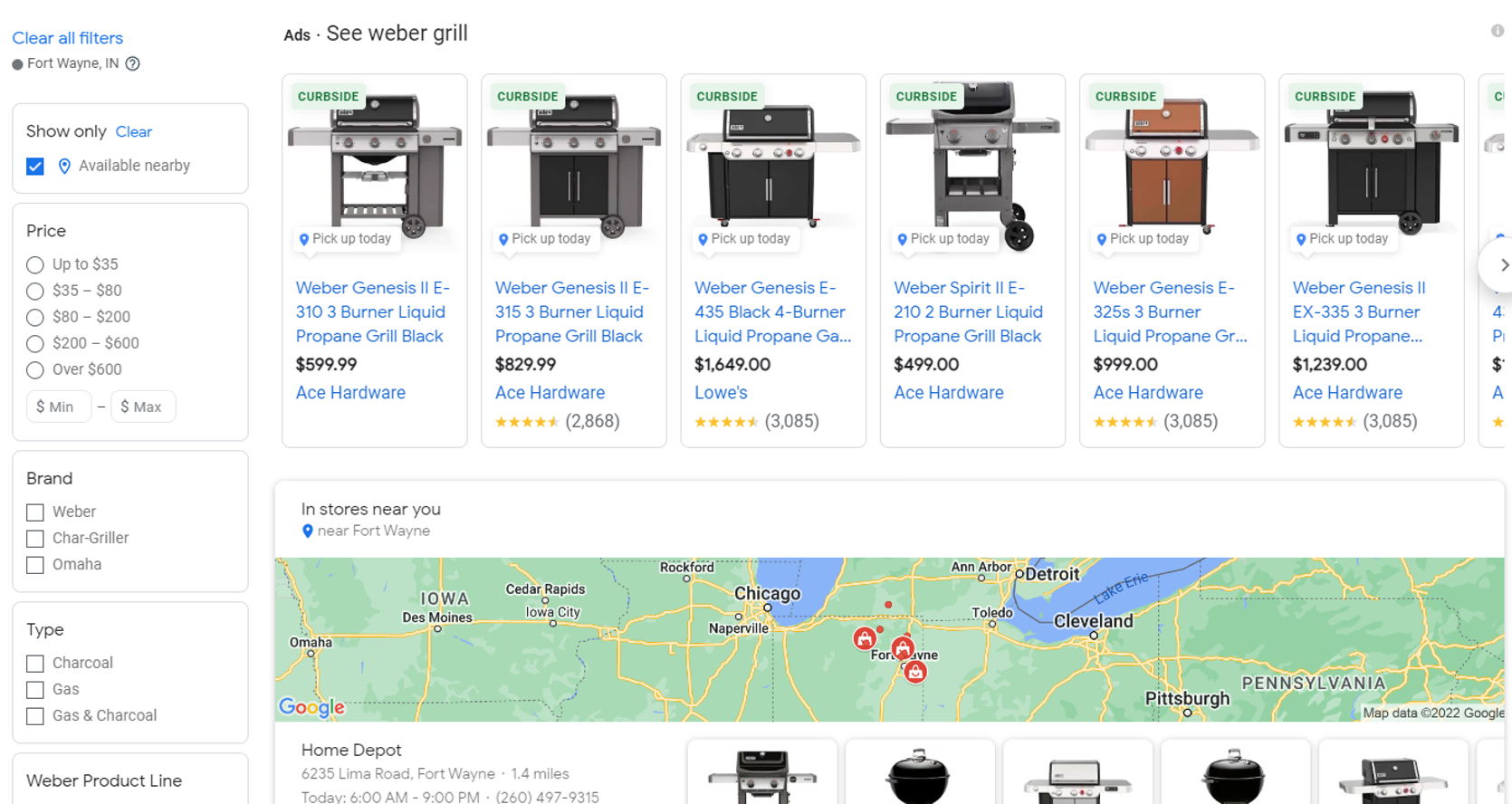 Google Local Product Inventory has two options that offer products from your Local Product Inventory feed:
Local Inventory Listings (free) are the organic search results displayed to customers when they conduct product searches.
In Google services like Search, Shopping, Images, and Maps, these listings are displayed beneath the paid Local Inventory Ads area.
Local Inventory Ads (paid) give companies the chance to enhance local inventory listings on all Google properties to boost impressions and obtain top-row placement.
Google Local Product Inventory feeds are submitted as a supplementary feed within Merchant Center and work in conjunction with your primary Google Shopping product feed.
What's the benefit?
By utilizing both physical stores and online retailers, you can improve the shopping experience for your customers while increasing click-through rates (CTR) and click volumes.
It also helps to increase sales at your brick-and-mortar locations and promote your available products, locally.
Do it Best members utilizing Google's Local Inventory, report seeing increased foot traffic driving in-store purchases, and phone calls are always a common method customers use to confirm inventory listings.
Is it for you?
On average, Google Shopping ads cost $0.66 per click
The average monthly budget for shopping ads across all industries is $770.41
The average cost per action (CPA) is $38.87 on Google
Requirements for Google Shopping
The store(s) must have a Google Business Profile (formerly known as Google My Business)
Merchants must have a Google Merchant Center Account
---

If you're looking for next steps to get started, or would like to explore which option may be best for you, schedule a call with our team today!