Pick N Pack App: Log In Process
I have downloaded the DIB Pick n Pack App. Now I need to know how to log into my account.
Please reach out to your Program Manager or Digital Product Specialist to receive account permissions needed to use the mobile app.
Contact: dibsupport@jhspecialty.com or 260.247.2167
Guy Platter, Digital Product Specialist.
Program Managers, Abby Willig, Jared Winteregg and Lucas Smith.
Tap on the "DoitBest-PicknPack" App on your phone display


Type in your MOCE Admin URL into the "Domain" field. Note: this is your URL that you use to log into your MOCE account but without including the "Https://" part of the address.
Ex. "1234.doitbest.com" or "admin.jetsons.com"
Ty

pe i

n your MOCE

account username and password. Note: this is your MOCE username and password.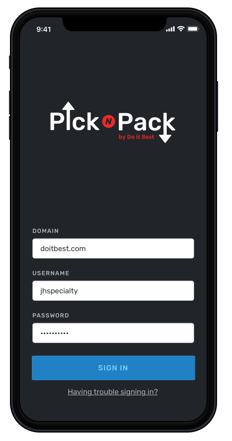 After a successful login, the "Pull" screen will appear.