This module is for Full Admin Users viewing orders placed on their MOCE Website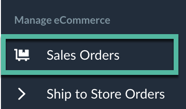 Filter by Member
* For multi-location stores
You can use this filter to narrow down the orders to a specific location.
Filter by Customer
You can filter the orders by the customer's name.
Order Status
Filter the orders by: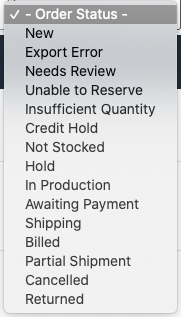 View more than 10 orders on your screen
You can choose how many results appear on your screen by using the scroll bar:

Search
You can enter in a number of search fields into the open search box.
Sales Order Number
OMS Order Number
Billing Name
Billing Address 1
Billing Address 2
Billing City
Billing State
Email
Phone Number
Order Item SKU
Order Item Name
Order Item Brand(s)
Click 'Go' to complete the search

Sort Columns
Each column can be sorted or reverse sorted by alphabet or numerical number.
STS/STA
Ship-to-Store
Ship-to-Address
ACTIONS
View the order details:

The Invoice includes:
Invoice Number
Customer Name
Invoice Status
Payment Status
Paid Date
Invoice Delivery Status
Invoice Delivery Preference
Billing and Mailing Information
Line Items Ordered
Subtotal
Shipping
Taxable Subtotal (if applicable)
Tax Rate (if applicable)
Tax (if applicable)
Total Due
Payments Received
Account Balance
Total Remaining